Yesterday, I mentioned that I wore one of my favorite dresses for a head shot session. And last week I teased that I would share my favorite Etsy shop. Well, the favorite dress is from the favorite Etsy shop. I cannot remember how I first found Ellaina Boutique on Etsy, but I do remember getting my first crossover-front dress from her. This dress is the most amazing thing ever on my body.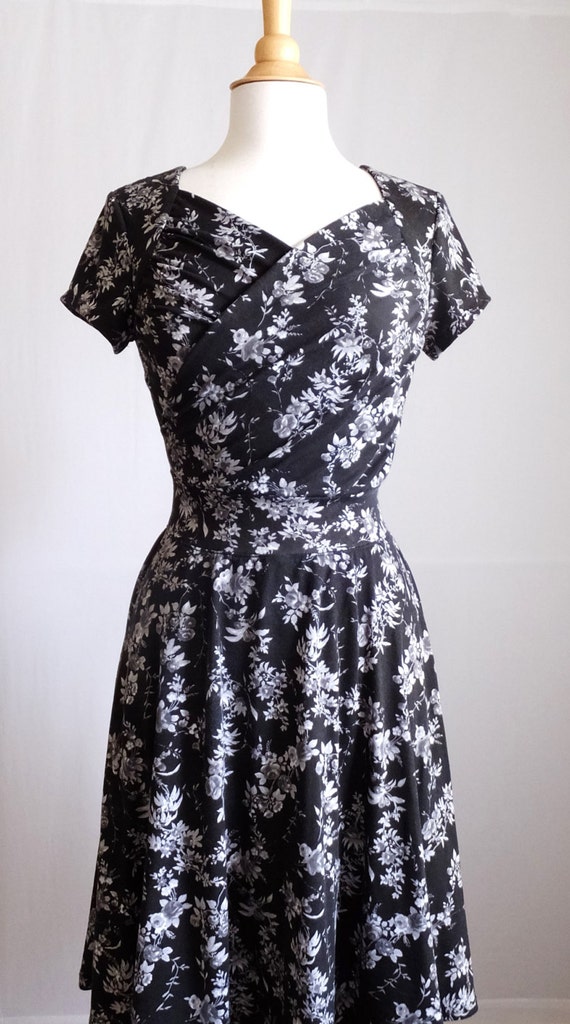 All my life, I've been blessed and cursed with a small bust. In fact, it got me one of my first local stage roles! But I yearn to look feminine and curvy. This dress' unique styling accentuates what little I have up top, while narrowing to a small waist, and then flaring out again to give me the hourglass figure that I wish I had in earnest. But the crossover top is also quite modest. I love the way the top is constructed. It's a very vintage-inspired look, but in a modern dress. I actually wore this style of dress to the auditions for the 1940s-era play I'm currently in.
I loved this dress so much that since that first purchase, I've bought three more in different colors and prints. Sue has an amazing array of fabrics, and she'll send you a link to her fabric store so you can pick something out that isn't on her site. Plus, she's a joy to work with. She's always willing to bat ideas around and help you come up with something fun. And I love that she'll always make a dress a bit longer, as I'm taller than the average woman, and I like my dresses to graze my knees or else I feel I'm showing too much leg.
Besides the dresses, I've also purchased a retro-print shirt and a custom-made nightgown. I converted one of her dresses into a nightgown by removing the belt and adding lace to the neckline and sleeves. It served me so well during the cold winter months that I'm thinking I'll need to get a sleeveless summer version soon!
I hope you'll check out this lovely shop so that she stays in business for years to come!
{the photo above is from Ellaina Boutique and shows one of the prints that I don't have personally but find lovely!}